PUBLIC HEALTH ASSESSMENT
BRIDGEPORT RENTAL AND OIL SERVICE
LOGAN TOWNSHIP, GLOUCESTER COUNTY, NEW JERSEY

APPENDICES
APPENDIX A
The following section was not available in electronic format for conversion to HTML at the time of preparation of this document. To obtain a hard copy of the document, please contact:
Agency for Toxic Substances and Disease Registry
Division of Health Assessment and Consultation
Atnn: Chief, Program Evaluation, Records, and Information Services
Branch, E-56
1600 Clifton Road NE, Atlanta, Georgia 30333
APPENDIX B


Figure 1. Regional Area Map of BROS Site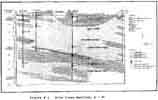 Figure 3. Site Cross Section, A - A'


Figure 8. Movement of Contaminant Plume


Figure 9. Soil/Sediments, Area #1


Figure 10. Surface Water Samples
APPENDIX C
Response Summary
This response summary represents those comments and reactions to the Public Health Assessment received during the Public Comment Period described in the Community Concerns Evaluation section. A single comment was received from the Gloucester County Planning Department which listed additional sources of information about the site and the surrounding area. These sources have been acknowledged and added to the official file for this Public Health Assessment.