HEALTH CONSULTATION
EVALUATION OF CHEMICAL CONTAMINATION
OF FISH FROM THE SOUHEGAN RIVER AREA OF
FLETCHER'S PAINT STORAGE FACILITY
MILFORD, HILLSBOROUGH COUNTY, NEW HAMPSHIRE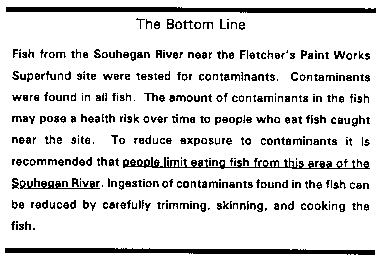 Purpose
This Health Consultation discusses recent data describing chemical contamination of fish caughtnear the Fletcher's Paint Works and Storage Facility Superfund site and evaluates human healthrisk from eating contaminated fish from this area. The fish were tested because the presence ofcontaminants in the river and river sediments suggested that fish living in the area may also becontaminated. The risks posed by direct contact with the soils and river sediments near the sitewere evaluated in a previous health consultation prepared by the New Hampshire Office of HealthManagement-Bureau of Health Risk Assessment (BHRA) and were found to be a concernbecause of high contaminant levels1. These risks have been a concern of the community, theEnvironmental Protection Agency (EPA), BHRA and the Agency for Toxic Substances andDisease Registry (ATSDR).
Contaminants in fish
Fish are nutritious and good to eat, but some fish may take in contaminants from the water theylive in and from the food they eat. Some of these contaminants build up in the fish over time. These contaminants could harm the people who eat them, so it is important to keep exposure tothese contaminants as low as possible. Two contaminants of concern found at the site, PCBs(polychlorinated biphenyls) and pesticides are long-lasting contaminants and can build up in thefish and in the bodies of people who eat them over time. It takes months or years of regularlyeating contaminated fish to build up amounts of contaminants in the body which are a healthconcern. Health problems that may result from the contaminants found in fish range from smallchanges in health to birth defects and cancer.



BACKGROUND AND STATEMENT OF ISSUES
Site Description
The Fletcher's Paint Works and Storage Facility site was listed on the National Priority List inMarch, 1989 and became inactive in 1991. The site consists of three areas; the Elm Street site,the Mill Street site and the drainage ditch/culvert system1. The Elm Street site contains theoriginal Fletcher's Paint Works building which is bordered on the South by Elm Street, to theNorth by the Souhegan River, to the west by Keyes Park and to the East by a cemetery. Themain part of this building is currently in use as a consignment store. The Mill Street site formerlycontained a storage facility and is bordered to the North by a railroad track, to the South by MillStreet and residences, to the West by a coal yard and to the East by Cottage Street. A drainageditch runs North from the Mill Street pond underneath Mill Street passing through the coal yardand between two vegetable gardens located behind Cottage Street. The ditch then runsunderneath Elm Street and the paint works building before emptying into the Souhegan Riverdirectly behind the paint facility.
A Preliminary Health Assessment prepared by BHRA and issued in June of 1990 by ATSDRdetermined the site to be of potential public health concern because of risks associated with thepotential exposure to volatile organic chemicals, PCBs (polychlorinated biphenyls), PAHs(polyaromatic hydrocarbons), and metals from soils, sediments and groundwater2. Since then,BHRA has prepared two health consultations regarding PCB contamination in the Mill Streetarea3 and one health consultation regarding contamination of the Souhegan River, river sedimentsand river bank area1.
A site visit was conducted on May 19, 1994 by Dennis Pinski and Robert Duff (BHRA) whileaccompanied by Greg Ulirsch (Technical Project Officer-ATSDR), Ted Bazenas (RegionalRepresentative-ATSDR), EPA's remedial project manager, the site manager for the NewHampshire Department of Environmental Services and the Town Assessor1. During the visit itwas noted that residents had been seen with children sun bathing on a sand bar in the SouheganRiver approximately fifty yards upstream from the Elm Street facility. Easy access to this part ofthe river is available from Keyes Park which is West of the Elm Street facility and directlyadjacent to it. Access via the cemetery on the opposite side of the paint facility was also noted. A path extends from the rear of the cemetery down to the river immediately adjacent to the paintfacility. This area showed signs of recurrent use and provides access to the river. In 1997 a ropeswing was installed across the river from the site. There is a visible path in the riverbed wheresediments have been disturbed from Keyes Field to the sand bar, showing the route taken to access the swing.
Reason for Fish Testing
A Health Consultation prepared by BHRA in September, 1994 concluded that a public healthhazard exists from long-term exposure to levels of PCBs and PAHs in the Souhegan River, riversediments, and river bank soil1. It is well established that certain chemicals such as PCBs canaccumulate in fish from river contaminants4. Therefore, it is likely that fish in the Souhegan Rivernear the Fletcher's Paint Works site are contaminated. The health risks posed by eating fish fromthe Souhegan River in the area of the site was a community health concern noted after a PublicAvailability session on May 19, 1994.
The river is accessible for fishing1, except for a chain link fence that surrounds the Elm Streetproperty. The fence does not prevent access from other properties to the riverbank adjacent to thesite5. However, signs are posted at the fence near the riverbank at the upstream and downstreamproperty boundaries of the Elm Street site and at the culvert outfall that warn that hazardousmaterials are present5. These signs do not warn against fishing or swimming. No other signs areposted near the river in this area. The accessibility of the river suggests that it is possible for thepublic to fish and swim there.
Fish Sampling
On October 25 and 26, 1994 personnel from an EPA contractor and the U.S. Fish and WildlifeService collected samples of fish and freshwater mussels from the Souhegan River6. Sampleswere collected from both upstream and downstream of the Fletcher's Paint Works site. A total of50 fish were taken from the river and 40 fish were analyzed. Twenty freshwater mussels werealso collected. After collection the fish tissues were frozen. Table 1 summarizes the fish thatwere collected and analyzed.
Fish Test Results
In June 1995, fish were tested for PCBs and 21 pesticides. Some fish and mussels were collectedto determine risk to the environment. This evaluation focuses on potential risks to human healthonly. Therefore the results shown are only for fish filets that are commonly eaten, that is, yellowbullhead and brown bullhead catfish (hornpouts). To simplify analysis of the results, the yellowand brown bullheads are grouped together. Upstream and downstream fish were also groupedtogether. With regards to PCB contamination, downstream fish were about three times ascontaminated on average as upstream fish. For pesticides upstream fish were contaminated just asmuch as downstream fish. The results are summarized in Table 2.
Table 1.

Summary of Fish Collected and Analyzed from the Souhegan River

| Number of Samples | Species | Collection Location | Tissue Analyzed |
| --- | --- | --- | --- |
| 6 | Brown Bullhead | Downstream | Fillet |
| 6 | Brown Bullhead | Downstream | Offal* |
| 6 | Brown Bullhead | Upstream | Fillet |
| 6 | Brown Bullhead | Upstream | Offal |
| 4 | Yellow Bullhead | Downstream | Fillet |
| 4 | Yellow Bullhead | Downstream | Offal |
| 4 | Yellow Bullhead | Upstream | Fillet |
| 4 | Yellow Bullhead | Upstream | Offal |
| 10 | Yellow Perch | Downstream | Whole Fish |
| 10 | Yellow Perch | Upstream | Whole Fish |
*Offal is the parts of the fish that are not normally eaten. (October 1994)



Table 2.

Results of Analysis of Fish from the Souhegan River
Chemical
Average
Concentration*
(ppb)
Maximum
Concentration
Detected
(ppb)
Minimum
Concentration
Detected (ppb)
Number of
Fish Testing
Positive
Number of
Fish Tested
Total PCBs**
232
660
30
20
20
DDD
5.1
15.8
4.78
8
20
DDE
32
131
8.84
20
20
DDT
3.1
14.2
0.8
14
20
Aldrin
5.3
17.5
3.68
10
20
Methoxychlor
3.5
3.09
3.09
1
20
Endosulfan sulfate
0.8
1.5
1.04
2
20
Heptachlor epoxide
0.5
0.57
0.192
4
20
Dieldrin
1.6
8.1
8.1
1
20
Endosulfan II
0.8
3.96
3.96
1
20
Endrin
1.0
4.1
4.1
1
20
*To calculate the average, one-half of the detection limit was used instead of zero when a chemical was not detected in asample.
**Sum of detected PCBs. Tests measured individual Arochlor mixtures. Only 1248 and 1260 were detected. (June 1995)
PCBs and DDE were detected in every fish filet tested. In addition, DDT, DDD, aldrin, andheptachlor epoxide were each detected in more than two fish. Several other pesticides weredetected in only one or two fish.