HEALTH CONSULTATION
Site Summary
COLONIE SITE
(Aliases: COLONIE INTERIM STORAGE SITE and
FORMERLY NATIONAL LEAD INDUSTRIES)
ALBANY, ALBANY COUNTY, NEW YORK
The 11.2 acre Colonie Site is at 1130 Central Avenue in Colonie, Albany County, New York. Itincludes the property formerly owned by National Lead (NL) Industries as well as three vicinityproperties - a Niagara Mohawk substation, Town of Colonie property, and CSX rail property.The boundary between Colonie and the city of Albany is just south of the site. The former NLproperty is bounded by a wooded lot on the northwest, Consolidated Rail Corporation (Conrail)railroad tracks on the southwest and south, commercial property on the east, Central Avenue onthe northeast, and a Niagara Mohawk electrical substation on the north (USDOE 1995).
At a public meeting held by the U.S. Army Corps of Engineers (USACE) on July 11, 2001,several community members expressed concern about potential adverse health effects from pastoperations at the Colonie Site. In response to those concerns, USACE requested that the Agencyfor Toxic Substances and Disease Registry (ATSDR) conduct a health evaluation of potentialexposures to the community from past operations.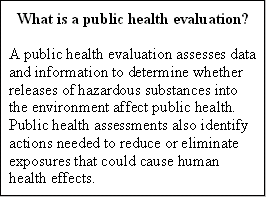 ATSDR conducted a site visit of the Colonie Site September 9-13, 2002. The purpose of the visitwas to begin collecting information necessary for conducting a public health evaluation. Duringthe visit, ATSDR staff met with local community groups to discuss community health concerns.ATSDR staff also met with representatives of the New York State Department of Health, theNew York State Department of EnvironmentalConservation, Albany County HealthDepartment, and the New York StateDepartment of Labor. ATSDR staff met withrepresentatives from USACE and toured theColonie Site. In addition, ATSDR staff wereable to review and copy many documentsrelated to the site. ATSDR staff attended theUSACE's public meeting on September 12 andspoke with several members of the communityabout their health concerns. In addition, ATSDRstaff attended a community meeting held onNovember 21, 2002 discussing a preliminary lead soil sampling plan for properties surroundingthe former NL plant being developed by the New York State Department of Health (NYSDOH)and the New York State Department of Environmental Conservation (NYSDEC). As a result ofthese meetings and a preliminary survey of the available data, ATSDR will evaluate available information to try to answer the following questions in our health evaluation:
Were people exposed to harmful levels of lead in the past, present, and future anddepleted uranium (DU) in the past by contacting soil when playing or gardening?



In the past, could people have potentially breathed DU, lead, and other possiblecontaminants from air emissions from NL's chip burner and other onsite sources?



Although it is unlikely, in the future could people potentially breathe indoor air with volatile organic compounds (VOCs) from contaminated groundwater?
History of the Colonie Site
In 1923, the Embossing Company began industrial operations at the present day sitemanufacturing wood products and toys. In 1927, Magnus Metal Company purchased theproperty and began operating a brass foundry for manufacturing railroad parts, including brasscomponents cast in sand molds and brass bearing housings with surfaces of babbitt metal (analloy of lead, copper, and antimony) (USACE 2001b).
In 1937, National Lead Industries purchased the facility and an adjacent lot containing a portionof the former Patroon Lake. NL continued operating the brass foundry and began filling PatroonLake with casting sand sometime before 1941. After World War II, NL began casting aluminummainframes for airplanes, and in 1958, the nuclear division of NL began producing itemsmanufactured from uranium and thorium under a license from the Atomic Energy Commission(AEC; this agency was split into the US Nuclear Regulatory Commission (civilian programs)and the US Department of Energy (government/military programs)). Operation of the brassfoundry was discontinued in 1960 (USACE 2001b).
From 1958 to 1984, NL operations used radioactive materials consisting mostly of depleteduranium (DU), although smaller amounts of thorium and enriched uranium were also usedbetween 1960 and 1972. Operations reduced depleted uranium tetrafluoride to depleted uraniummetal which was then made into shielding components, ballast weights, and projectiles. Inaddition, from 1966 to 1972, NL manufactured fuel from enriched uranium for experimentalnuclear reactors (USACE 2001b).
Other processes at NL included an electroplating operation for plating uranium with nickel andcadmium. Chemicals used included: nickel sulfamate, sodium cyanide, ferric chloride, nitricacid, silicate phosphate, iridite (a chromium brightener), cadmium metal, nickel metal, boricacid, and perchloroethylene (PCE). There is little or no information about how or where most ofthese materials were disposed because there are no disposal records. However, letters from NLto the Atomic Energy Commission indicate that about 55 cubic yards of graphite, slag,refractory, uranium oxide, insoluble oil, metal scrap, and combustible trash were buried in thePatroon Lake in 1961, as per their license. Other chemical wastes and packaged chemicals usedat the site included acids, bases, degreasing agents, carbon tetrachloride, benzene,polychlorinated biphenyls (PCBs), cyanide, heavy metals, and asbestos (USACE 2001b).
In February 1980, the New York State Supreme Court issued a temporary restraining orderbarring NL from operating the facility because of its airborne releases of uranium compounds. InMay 1980, the judicial order was amended to allow limited operation at the plant. This order alsorequired the company to begin an independent investigation assessing all adverse environmentalconditions in onsite soil and on the off-site vicinity properties that may have been caused byairborne discharges from the plant. Teledyne Isotopes was hired to perform a radiological surveyof the NL property and surrounding properties. In 1984, NL was closed by state officials becausecontinuing airborne releases exceeded state standards (USACE 2001b).
Remediation at the Colonie Site
After the closure of the NL plant in 1984, Congress authorized the US Department of Energy(USDOE) to remediate the property under the Formerly Utilized Sites Remedial Action Program(FUSRAP). The Secretary of Energy accepted an offer from NL to donate the land, buildings,and equipment to expedite the cleanup (USACE 2001b). From 1984 to 1997, the Colonie Sitewas managed by USDOE. Between 1984 and 1988, Oak Ridge National Laboratory (ORNL)performed radiological surveys of 219 individual properties surrounding the former NL property.Of these, 56 vicinity properties were contaminated with concentrations of radioactive materialexceeding 35 picocuries per gram (pCi/g) for uranium-238 (U-238). Fifty-three of the 56 vicinityproperties were cleaned up between 1984 and 1988 by removal of DU contaminated soil,typically concentrated in the upper 2 inches (USDOE 1995). The waste soil was held in interimstorage on the Colonie Site within an onsite building. In 1995, this material was bagged andshipped to an offsite disposal facility (USACE 2001a). An Engineering Evaluation/CostAnalysis, finalized by USDOE in 1995, outlined the remediation of the former NL property andthe remaining three vicinity properties.
By Congressional action in 1997, USACE assumed control of the Colonie Site and theresponsibility for the remaining cleanup activities. USACE has remediated one of the threevicinity properties and major portions of the Colonie Site proper. USACE plans to complete the soil remedial work in June 2004. USACE is still evaluating groundwater.
Were people exposed to harmful levels of lead in the past, present, and future anddepleted uranium (DU) in the past by contacting soil when playing or gardening?

In 1984, ORNL determined that radioactive contaminants were deposited onto off-siteresidential properties from on-site air releases at NL when the plant was operational.From 1984 to 1988, 219 properties were sampled for radioactive contaminants, includingU-238, and 53 were remediated to less than 35 pCi/g of U-238. However, none of theproperties were analyzed for lead that may have also been deposited from air releases.Soil removal at properties contaminated with DU would likely have removed leadcontaminated soil as well, but lead contamination could remain at properties that werenot cleaned up. Currently, the New York State Department of Health (NYSDOH) and theNew York State Department of Environmental Conservation (NYSDEC) are developinga preliminary lead soil sampling plan for the areas surrounding the former NL plant.Because children are especially sensitive to the effects of lead, ATSDR recommends thatinformation about children living in nearby properties, such as age and length ofresidence, be collected during the sampling efforts. ATSDR will review the datacollected from the NYSDOH/NYSDEC sampling to determine if lead levels present apublic health concern.

Many of the homes in the residential areas surrounding NL were built before 1950 andcould have both interior and exterior lead paint, which has been shown to be a majorcontributor to lead poisoning in children. The Centers for Disease Control and Prevention(CDC) recommends that states develop a plan to find children who may be exposed tolead and have their blood tested for lead. They make basic recommendations for states tofollow. These include testing children at ages 1 and 2. Children who are 3 to 6 years oldshould be tested if they have never been tested for lead before and they receive servicesfrom public assistance programs for the poor such as Medicaid or the Supplemental FoodProgram for Women, Infants and Children (WIC); if they live in a building or frequentlyvisit a house built before 1950; if they visit a home (house or apartment) built before1978 that has been recently remodeled; or if they have a brother, sister, or playmate whohas had lead poisoning (ATSDR 1999). ATSDR recommends that parents concernedabout their children's exposure to lead follow CDC's guidelines and have their children'sblood lead levels tested by their physician.

Between 1984 and 1988, DOE remediated DU contaminated soil at 53 vicinityproperties, including both commercial and residential properties. Prior to remediationthere may have been a public health impact from contact with the soil. ATSDR willreview data, including the sampling results for DU in soils at these vicinity properties, to determine whether illness or disease in people who were exposed to the soil would beexpected.

In the past, could people have potentially breathed harmful levels of DU, lead, and other possible contaminants from air emissions from NL's chip burner and other onsitesources?

NL operated a chip burner to dispose of unused DU from 1958 to1984. During this timeperiod, NL's emissions exceeded state standards. People in the community surroundingNL may have been exposed to this contamination. ATSDR is currently looking forinformation and data related to the use of the chip burner and the levels of emissions.ATSDR reviewed records at the NYSDEC, NYSDOH, and the New York StateDepartment of Labor, and the Albany County Department of Health. ATSDR foundlimited data of uranium stack emissions from the former NL plant during 1979-1984.ATSDR is currently in the process of accessing records at the New York State Office ofthe Attorney General. If relevant information is available, ATSDR will review the data todetermine if past exposures to air emissions could have resulted in adverse health effects. ATSDR will also look at the combined exposure to DU from soil and air emissions.

Although it is unlikely, in the future could people potentially breathe indoor air with volatile organic compounds (VOCs) from contaminated groundwater?

The groundwater below the Colonie Site was contaminated with VOCs by operations at the NLplant. USACE is currently remediating the groundwater. Sampling in off-site monitoring wellsindicates the migration of groundwater contaminated at low levels. In July and August of 2002,USACE sampled the indoor air of five residences adjacent to the Colonie Site to determine ifVOCs detected in groundwater originating from the Colonie Site had affected indoor air qualityof those homes. The results indicate that currently there is no impact to indoor air quality fromcontaminated groundwater. USACE is planning a second round of air sampling in the sameresidences during the winter months when contaminant concentrations in indoor air maypotentially be higher. ATSDR will review the results from the second round of air sampling aswell as groundwater sampling results to determine the likelihood of indoor air contamination and if adverse health effects could be expected if there is exposure.
The community is concerned that past emissions from the site have caused adverse healtheffects such as various types of cancer, birth defects, Down syndrome, rashes, andendometriosis. ATSDR will evaluate the potential exposure pathways discussed aboveand review available literature to determine the plausibility that those exposures, iffound, may have resulted in disease.



A citizen is concerned that possible lead contamination in her yard could harm herchildren and grandchildren. ATSDR will address this concern as outlined in thediscussion section of this document. ATSDR recommends that parents concerned abouttheir children's exposure to lead follow CDC's guidelines as described in the discussionsection and have their children's blood lead levels tested by their physician.



A citizen's group is concerned that people, especially children, could have been exposedto DU by playing with pellets and abandoned drums on the property in the past. ATSDRwill review accounts of these activities and available scientific information to determineif illness or disease in people would be expected from such exposures.



Citizens are concerned that lead and depleted uranium contamination in the soil inresidential vegetable gardens could have ended up in their food. ATSDR will reviewavailable environmental data and scientific information to determine if uptake is possibleand would have potentially resulted in harmful levels in foods.



A community group is concerned about exposure to DU, lead, and other possiblecontaminants in the surface water of the Patroon Creek in and around Tivoli Lake whileswimming and wading. The watershed is located in an industrial area and is subject tocontamination from several point and non-point sources of pollution. Although notclassified by New York State for primary contact recreation, it is reported that some partsof the Patroon Creek have been used for many years for swimming and wading by peopleliving nearby. Some uranium and lead have been found in sediments in the Patroon Creekwatershed downstream of the Colonie Site. ATSDR will review information about thewatershed and contaminants, including surface water and sediment sampling data fromthe unnamed tributary leaving the Colonie Site, to determine the public health impactfrom past contact with the water. However, surface water contact is generally less of ahazard than ingestion, especially with contaminants such as lead and depleted uranium.Therefore, unless levels are extremely high, health effects from contact with the surfacewater from the former NL Industries would not be expected.

ATSDR is working with USACE, community groups, and state and local agencies to identifyany remaining hazards.
ATSDR will review available data for each of the issues and concerns outlined above and determine the public health impact for the exposure pathways.



The NYSDEC and NYSDOH will conduct soil sampling for lead in areas around theColonie Site.



The USACE will sample indoor air in homes for potential effects on air quality fromcontaminants in ground water plumes
FREQUENTLY ASKED QUESTIONS ABOUT ATSDR'S PUBLIC HEALTH EVALUATION
Is a public health evaluation the same thing as a medical exam or a community health study?
No, a public health evaluation is not the same thing as a medical exam or a community healthstudy. An ATSDR public health evaluation reviews available information about hazardoussubstances at a site and evaluates whether exposure to them might cause any harm to people.
Public health evaluations consider–
what the levels (or concentrations) of hazardous substances are
whether people might be exposed to contamination and how (through exposure pathwayssuch as breathing air, drinking or contacting water, contacting or eating soil, or eatingfood)
what harm the substances might cause to people (or the toxicity of the contaminant)
whether working or living nearby might affect people's health
other dangers to people, such as unsafe buildings, abandoned mine shafts, or otherphysical hazards
Who can I contact if I have questions?
You can contact ATSDR's toll-free information line at: 1-888-42-ATSDR (1-888-422-8737).Please mention that you are calling about the Colonie Site.
More information about ATSDR can be found on the internet at http://www.atsdr.cdc.gov
[ATSDR] Agency for Toxic Substances and Disease Registry. 1999b. Toxicological profile forlead. Atlanta: US Department of Health and Human Services. July.
[USACE] US Army Corps of Engineers. 2001a. Proposed action memorandum for soil removalat the Colonie Site, Colonie, NY. June.
[USACE] US Army Corps of Engineers. 2001b. Letter to Arthur Block from Stuart Pikenconcerning the Colonie Site. New York, New York. July 25.
[USDOE] US Department of Energy. 1995. Engineering evaluation and cost analysis (EE/CA)for the Colonie Site. Oak Ridge. September.
Initial site visit: September 9-13, 2002
USACE Public meeting: September 12, 2002
Community meeting: November 21, 2002
Mr. Aaron Mair, Arbor Hill Environmental Justice Corporation
Mr. Rodney Davis, Arbor Hill Environmental Justice Corporation
Mr. Steve Lukowski, Albany County Department of Health
Mr. Ronald Groves, Albany County Department of Health
Ms. Anne Rabe, Citizens' Environmental Coalition
Mr. Tom Ellis, Citizens' Environmental Coalition
Mr. Clifton VanGuilder, New York State Department of Environmental Conservation
Mr. Paul Merges, New York State Department of Environmental Conservation
Mr. John Abunaw, New York State Department of Environmental Conservation
Ms. Barbara Youngberg, New York State Department of Environmental Conservation
Mr. Paul Patel, New York State Department of Environmental Conservation
Mr. Kent Johnson, New York State Department of Environmental Conservation
Ms. Adela Salame-Alfie, New York State Department of Health
Mr. Jerry Collins, New York State Department of Health
Mr. John Sheehan, New York State Department of Health
Mr. Don Miles, New York State Department of Health
Mr. Mike Rivara, New York State Department of Health
Mr. William Varcasio, New York State Department of Labor
Mr. James Moore, US Army Corps of Engineers
Mr. Joe Pierce, US Army Corps of Engineers
Mr. Tony Sheeran, Shaw E&I
Ms. Karol Meyerhoffer, Shaw E&I
Mr. Dave Sendra, Shaw E&I
Mr. Michael White, USACHPPM
Mr. Jim Mullikin, USACHPPM
Carole Hossom
Environmental Health Scientist
Federal Facilities Assessment Branch
Division of Health Assessment and Consultation
Agency for Toxic Substances and Disease Registry
Aimee Tucker
Technical Researcher
Federal Facilities Assessment Branch
Division of Health Assessment and Consultation
Agency for Toxic Substances and Disease Registry

Reviewers
Gary Campbell, Ph.D.
Chief, Defense Facilities Section
Federal Facilities Assessment Branch
Division of Health Assessment and Consultation
Agency for Toxic Substances and Disease Registry
Diane Jackson
Federal Facilities Assessment Branch
Division of Health Assessment and Consultation
Agency for Toxic Substances and Disease Registry
Sandra Isaacs
Chief, Federal Facilities Assessment Branch
Division of Health Assessment and Consultation
Agency for Toxic Substances and Disease Registry