PUBLIC HEALTH ASSESSMENT
FORT EUSTIS (US ARMY)
NEWPORT NEWS
NEWPORT NEWS COUNTY
VIRGINIA

Fort Eustis was proposed for the EPANational Priorities List in January1994, and listed in December 1994. The post encompasses an area of about8,300 acres. For remedialactivity purposes, Fort Eustis has delineated 22 Installation RestorationProgram areas, consisting of landfills,waste holding ponds, leaking underground storage tanks and fuel spills,maintenance and fuel storage areas, and fire fighting training areas.
The principal exposure pathway of concern is the consumption of PCB-contaminatedfish from Bailey's Creek, Brown's Lake and Eustis Lake. It is unlikelythat fish from any of the three water bodies have been consumed frequentlyenough to result in public health hazard.However, because PCBs in fish exceed safe levels, both Eustis Lake andBrown's Lake are included in the Fort Eustis fish advisory. The Army isworking with the Commonwealth of Virginia to place Bailey's Creek off-limitsto anglers.
The following pathways did not pose health hazards either because contaminationwas not detected or because people were not coming into contact with contaminantsat levels of concern.
Contaminant levels in surface water at Fort Eustis are not sufficientlyhigh to present a public health hazard. With the exception of PCB contaminationnoted in the water bodies mention above, surface water contamination atFort Eustis is limited to an apparently short-term fuel contamination atMilstead Island Creek, detected in 1993. Based on ATSDR's recommendation,in 1995 Fort Eustis conducted supplementary sampling which found no significanthydrocarbon contamination at Milstead Island Creek.
Sediment contamination at Fort Eustis has been detected in thewater bodies mentioned above. However, as is the case with surface water,the contaminant levels and frequency and duration of contact do not presenta public health hazard.
Groundwater in localized plumes is found under Fort Eustis. However,because the groundwater is not used for drinking water or other domesticuses, no public health hazard exists.
Soil contamination at Fort Eustis is limited to localized areas.Because institutional controls have eliminated the possibility of publiccontact with these contaminants, they do not pose a public health hazard.
If land use changes, the likelihood of human exposure should be re-evaluatedby the Army, the EPA, the Commonwealth of Virginia or ATSDR.
In order to evaluate the effect on public health of contaminants atNPL sites, the public health assessment focuses on examining whether peoplehave been exposed to (in contact with) the contaminants. To thisend, the two most important tasks in the public health assessment are:
determining whether people have been exposed to hazardous substancesfrom the NPL facility, and,


if exposure is possible or has occurred, determining whether theexposure is at a level that could be a hazard to public health.
In this PHA we will examine:
whether contamination exists in the environment,
whether contamination is in places where people in the surroundingcommunity might come in contact with the contaminants, and
if there is exposure, whether there is enough contamination to affectthe health of people in the community.
To make this determination, each of the potential environmental mediapathways will be examined. An environmental pathway can be describedas the route that the contamination follows to get from the source to wherepeople may be in contact with it. The environmental media that this PHAwill examine are:
the "food chain", such as crops, game and fish (specifically,at Fort Eustis, fish and shellfish).
water, including well water (groundwater) and surface water(creeks, ponds);
soil and sediment; and
air.
Another important factor is the way that people might contact the contaminant.By this we mean whether the chemical is:
inhaled;
ingested (eaten or drunk); or
absorbed through the skin.
Not all chemicals are a hazard for each of these methods of contact.For example, most metals are not harmful, particularly in very low amounts,if the only contact is by way of the skin.
Figure 1 portrays the exposure evaluation process study we will makein this PHA. Appendix A provides additional information on the legislativemandate for the public health assessment, and on the general nature ofthe public health assessment process.
ATSDR Exposure Evaluation Process
WHAT ARE THE CONTAMINANTS AT FORT EUSTIS?
WHICH ENVIRONMENTAL MEDIA ARE CONTAMINATED?
(AIR, WATER, SEDIMENT, SOIL, FOOD)
AND
HOW MUCH CONTAMINATION IS PRESENT IN EACH?
HOW DO THE CONTAMINANTS TRAVEL TO WHEREPEOPLE
CAN BE IN CONTACT WITH THEM?
HOW COULD PEOPLE BE EXPOSED?
(BREATHE [INHALE], EAT [INGEST], OR
TOUCH [DERMAL CONTACT])
ARE PEOPLE EXPOSED (OR WERE THEY EXPOSEDIN THE PAST)?
IF EXPOSURE IS OCCURRING, OR OCCURRED IN THEPAST,
WAS/IS THERE CONTAMINATION IN AMOUNTS THAT WOULD
AFFECT HEALTH?
Health outcome data (HOD) records certain health effects that occurin populations. The data can provide information on the general healthof the community living near a hazardous waste site. It can also provideinformation on patterns of specified outcomes. Some examples of healthoutcome databases are tumor registries, birth defects registries, and vitalstatistics. At present the degree of possible exposures are so limitedthat collection of health outcome data would not provide useful information.
Fort Eustis, located in Newport News, Virginia, was established in 1918.The post encompasses an area of about 8,300 acres. (See Figure 2) The originalpurpose was to serve as a point of concentration, organization, trainingand embarkation for the troops of the Coast Artillery Corps intended forduty abroad as heavy field artillery, trench mortar batteries, and antiaircraftartillery units (1).
Since 1918, Fort Eustis has served a number of purposes, including anArmy training facility for artillery and artillery observation, a prisonfor prohibition law offenders, and a work camp for the Works Progress Administration.Beginning in the World War II era, the primary mission of Fort Eustis hasbeen Army transportation training, research and development, engineering,and operations, including aviation and marine shipping activities. Thepost is currently under the command of the U.S. Army Training and DoctrineCommand (TRADOC) (1). Appendix B provides a listingof acronyms and abbreviations.)
Fort Eustis began investigating the management of hazardous waste inthe late 1970's. The facility was proposed for listing in January 1994,and listed on the NPL in December 1994.
For remedial activity purposes, Fort Eustis has delineated 22 InstallationRestoration Program (IRP) areas, consisting of landfills, waste holdingponds, leaking underground storage tanks (USTs) and fuel spills, maintenanceand fuel storage areas, and fire fighting training areas. (See Table 1and Figure 3.)
Table 1.

Ft. Eustis IRP Areas
Table 1: Fort Eustis Installation Restoration Program Areas
Site Name
ID Number
Contaminants
Potentially Contaminated Media (presencedoes not indicate that exposure has occurred)
Officers Club Landfill #1
FTEUST-01
Petroleum/Oil/Lubricants (POL), paint, metals
Soil, groundwater
Inactive Landfill #15
FTEUST-02
PCBs, metals
Soil, groundwater, surface water
Area 3300, Landfill #7
FTEUST-04
PCBs, metals
Groundwater, surface water
Open Burning Incinerator
FTEUST-05
None
None
Site #11-B Fire-fighting Training Area
FTEUST-06
POL, metals, solvents
Soil, groundwater
Sewage Treatment Plant
FTEUST-08
None
None
Hospital Incinerator
FTEUST-09
None
None
Range Impact Area
FTEUST-10
Unexploded Ordnance (UXO), metals
Soil, groundwater
Goose Island, Mulberry Island Dredge Spoils
FTEUST-11,
-12,-13,-14
Pesticides and kepone
Soil, groundwater
Site #11-C, Oil/Sludge Holding Pond
FTEUST-19
VOCs, metals, POL
Soil, groundwater
Building 2005 POL Underground Storage Tank (UST)
FTEUST-20
POL
Soil, groundwater
Site #9, Building 801 Central Heat Plant
FTEUST-21
POL
Soil, groundwater
Post Exchange Waste Oil UST
FTEUST-22
POL
Soil, groundwater
Site #21, Helicopter Maintenance Area
FTEUST-26
POL
Soil, groundwater
Site #18, Milstead Island Creek
FTEUST-27
Metals, POL, pesticides
Surface water, sediment
Site #11_A, Waste Oil Storage Tanks
FTEUST-28
Pol, solvents
None
Eustis Lake
FTEUST-36
PCBs
Surface water, sediment, biota
Site #16 Brown's Lake
FTEUST-29
PCBs, POL, metals
Surface water, sediment, biota
Site #17, Bailey's Creek
FTEUST-30
PCBs, POL, metals
Surface water, sediment, biota
Site #20, Old Pesticide Storage Bldg
FTEUST-30
Pesticides
soil, groundwater
Felker Airfield Tank Farm
FTEUST-32
POL
Soil, groundwater
Third Port UST Removal
FTEUST-33
metals
Soil
DOL Storage Yard
FTEUST-34
Pesticides, PCBs
Soil, groundwater
AAFES Service Station
FTEUST-35
fuel
Soil, groundwater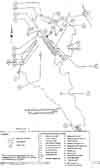 Figure 3 - Fort Eustis IRP
The primary environmental contaminants at the facility are PCBs, pesticides,fuel products, polycyclic aromatic hydrocarbons (commonly used in woodpreservatives and also given off in automobile or truck exhaust) (PAHs),volatile organic compounds (VOCs, primarily solvents), and metals. Contaminatedenvironmental media include onsite soil, surface water and associated sediment,and groundwater.
There are no situations where exposure has been documented. Althoughpublic access to the facility is not prohibited, the facility is not readilyaccessible around much of its perimeter, with the James River to the west,the Warwick River to the east and southeast. The facility is only readilyaccessible (without using a boat) at the northern boundary. With the exceptionof Bailey's Creek, which empties into Skiffes Creek, waste areas were locatedwithin the post and are only accessible to post residents or personnel.These sites are generally fenced, posted or otherwise secured.
According to the 1990 Census Newport News, where Fort Eustis is located,has a population of about 170,000. The population of Fort Eustis and theadjacent census tracts (tracts 320.1, 320.2, 320.03, 322.11, 322.21, 323,324) is 46,695 (2). Within a one mile radius, outsideof the post, population is estimated to be 5,100.
Fort Eustis employs a workforce of about 9,600 military and 4,150 civilianpersonnel. There are about 1,350 housing units on-post, with 1,100 militarypersonnel and 2,700 dependents in residence. On-post dormitories houseabout 1,600 military personnel. Additionally, there is an average of about600 short-term military personnel on-post for training (3).
Fort Eustis is located within the city of Newport News, Virginia. Thearea around the post is used for a combination of rural, residential, commercialand industrial activities. The post is bounded by the James River to thewest and south and the Warwick River to the east. These rivers are commonlyused for recreational boating and fishing activities. Commercial fishingalso occurs in the vicinity of the post.
The primary groundwater resource in the area is the Columbia Aquifer.This shallow aquifer system is characterized by high permeability and porosity,with resulting high transmissivities. According to information presentedin the 1995 Remedial Investigation (RI), the aquifer is strongly affectedby surface water recharge (4). This being the case,it is unlikely that contamination of groundwater under the post would passunder the Warwick River to the York-James Peninsula proper. This will bemore fully discussed in the following "Groundwater" section.
Surface water in the main post drains via storm sewers and drainageditches to James or Warwick Rivers. From the Mulberry Island area of thepost, drainage is through its marshes eventually into the James and WarwickRivers. There are several large streams and creeks draining the post, includingBailey's Creek and Milstead Island Creek. Fort Eustis has two lakes, EustisLake, the larger of the two is a post recreational lake located in thenorthwestern portion of the post. Brown's Lake is located in the southernportion of the cantonment area (4). Figure 3 shows the location of these water bodies.