PUBLIC HEALTH ASSESSMENT
NEWTON COUNTY WELLS (a/k/a SILVER CREEK TCE)
JOPLIN, JASPER COUNTY, MISSOURI


Figure 1. Site Map
Exposure Calculations
Ingestion Exposure Calculations
IDw = C x IR x EF
BW
where:
IDw = ingestion exposure dose (mg/Kg/day)
C = contaminant concentration (mg/L)
IR = ingestion rate
EF = exposure factor
BW = body weight
Adult:
IDw = .327 mg/L x 2 L/day x 1

70 Kg
Idw = 0.0093 mg/Kg/day
This calculation assumes that an adult weighs 70 Kg and drinks 2 L of tap water per day.
Child:
IDw = .327 mg/L x 1 L x 1

10 Kg
IDw = .0327 mg/Kg/day
This calculation assumes a child weighs 10 Kg and drinks 1 L of tap water per day.
Inhalation exposure for TCE in drinking water
In order to estimate the inhalation exposure residents of Saginaw and Silver Creek experienced, we need to make some assumptions. These are: a person breathes in approximately 15 cubic meters of air per day; that they live in a 2000 square foot, three bedroom home; that there is 100% TCE volatilization from water; and that water usage in a home is approximately 120 gallons/bedroom.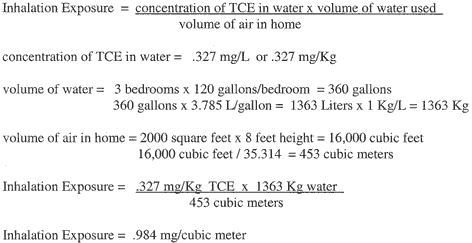 The MRL for acute exposure to TCE in air is 2 parts per million. (7)
1 part per million is equal to 5.4 mg/cubic meter
Therefore, the MRL is equal to 10.8 mg/cubic meter
The inhalation exposure for Silver Creek and Saginaw residents is approximately ten times lower than the acute Minimal Risk Level.
Cancer Calculations