Pease Study
The Pease Study will look at the association between health outcomes and PFAS exposure to expand the PFAS science base. CDC and ATSDR can evaluate the study procedures and methods of the Pease Study to improve the design of the multi-site health study.
In August 2018, CDC and ATSDR published the Pease study protocol in the Federal Register. We are evaluating public comments to strengthen the study.
For questions about the Pease study and to see if you can participate, please email us.
Background
Approximately 8,000 people work at or frequent the Pease International Tradeport. There are also two daycare centers located on the site. In May 2014, drinking water wells that supply the Pease International Tradeport were sampled. The Haven Well, one of three wells that serves the Pease International Tradeport and the New Hampshire Air National Guard base at Pease, showed elevated levels of the unregulated contaminant perfluorooctane sulfonic acid (PFOS). How long PFOS may have been present in this well is not clear.
Because the level of PFOS exceeded the "provisional health advisory" set by the U.S. Environmental Protection Agency (EPA), the well was shut down by the City of Portsmouth on May 12, 2014, and since that time it has been physically disconnected from the system. The New Hampshire Department of Health and Human Services asked the Agency for Toxic Substances and Disease Registry (ATSDR) to help evaluate possible follow-up actions.
Pease Feasibility Assessmentpdf iconpdf icon [PDF -1MB]
Pease Study Community Meeting
CDC and ATSDR staff will hold public availability sessions to kick-off the Pease Study and register participants exposed to PFAS through drinking water at the Pease International Tradesport in New Hampshire, the site of the former Pease Air Force Base.
When:
Thursday, October 24, 2019
5:30 p.m. to 6:00 p.m.
"Meet and greet" with staff from CDC and ATSDR
6:00 p.m. to 8:00 p.m.
Presentation on the Pease Study, followed by questions and discussion
Where:
Holiday Inn Portsmouth
300 Woodbury Ave
Portsmouth, NH 03801
Additional Resources:
Pease Community Assistance Panel (CAP)
Interested in learning more about ATSDR activities at the Pease International Tradeport Site? Join us for the next CAP meeting. Click here for more information about the Pease CAP.
The next CAP Meeting will be announced shortly.
Please check back periodically for more information.
Additional Resources
ATSDR Information
Information from Other Agencies
Pease Study Process - Provide Information to Protect our Community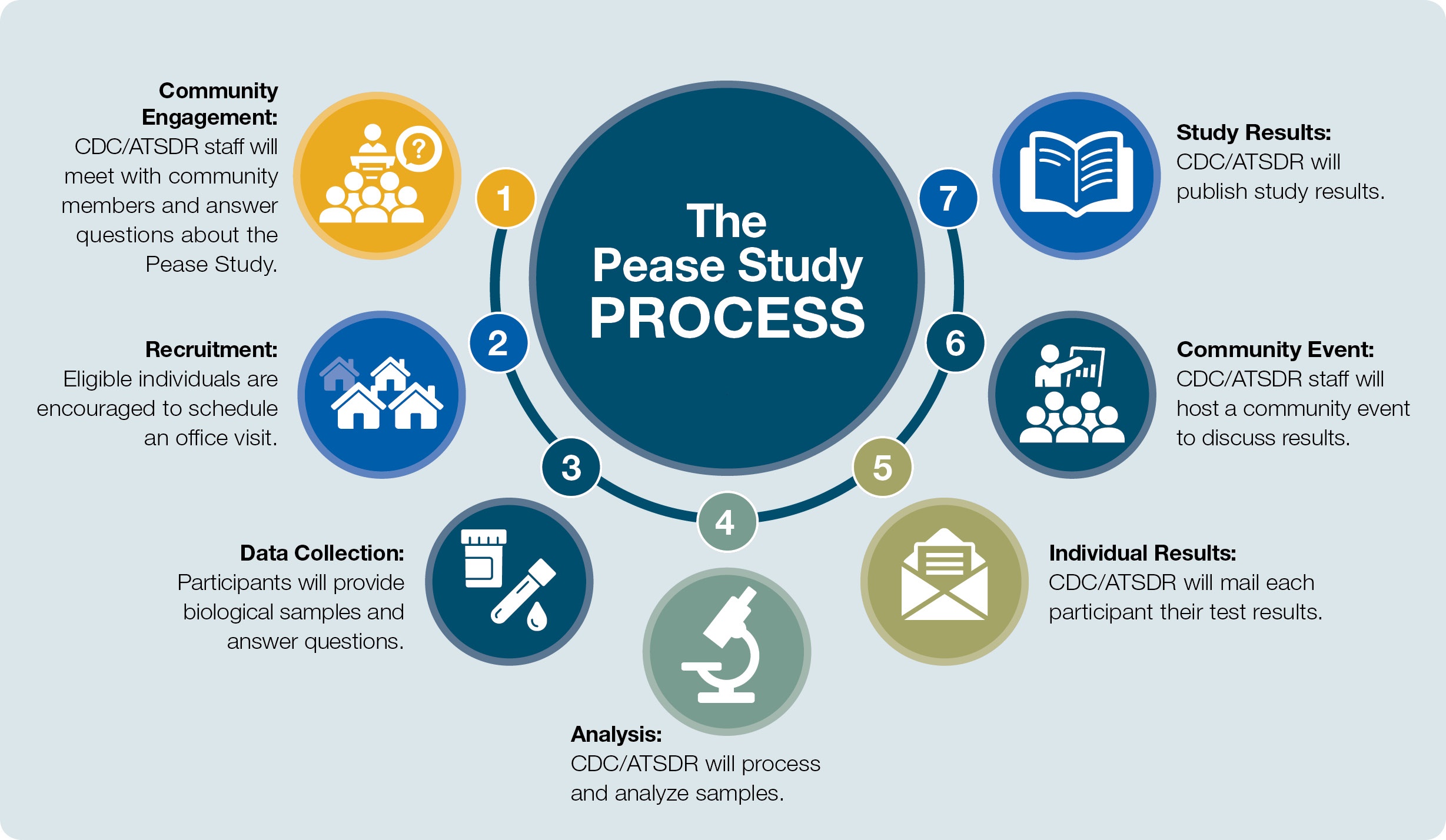 Page last reviewed:
October 11, 2019