Pease Study
CDC's and ATSDR's mission to protect public health requires that we pause the Pease Study to respond to the serious public health threat from the COVID-19 virus.
To protect the health of residents of Portsmouth, NH and surrounding communities and stop further spread of COVID-19, we are following CDC social distancing recommendations. Therefore, we will reschedule current appointments in the future and close the Pease Study office. We will continue to work on PFAS activities to address this important public health concern, including preparing for the time when we re-open the study.
We encourage everyone to do their part by limiting social gatherings and keeping a safe physical distance from others—staying at least six feet apart.
Please check our website periodically for PFAS updates.
If you would like to learn more about the virus, please click COVID-19.
The Pease Study is the first site of the national, Multi-site Study, which will look at the human health effects of PFAS exposure through drinking contaminated water. CDC and ATSDR will use the Pease Study to evaluate and improve procedures and methods for the Multi-site Study design.
The Pease Study is now enrolling participants who meet specific eligibility requirements. This study will expand our scientific understanding of PFAS by looking at the association between health outcomes and PFAS exposure from drinking water.
If you would like to enroll in the study or if you are unsure about whether you qualify for the study, please call the Pease Study call center at 603-846-6192. The call center will screen you for eligibility and provide information on the next steps.
FAQs about the Pease Study pause during CDC's and ATSDR's response to COVID-19
Q1: If I or my child have already scheduled an appointment for the Pease Study, what should I know?
We are contacting all participants who have appointments through June 2020 to inform them that they will be rescheduled after the COVID-19 virus outbreak is contained and the study can resume safely. If additional appointments need to be rescheduled beyond June, we will be in touch.
Q2: Is the Pease Study call center or office in Portsmouth open?
For your safety, we are following agency guidelines on social distancing to slow the spread of the virus by temporarily closing the office. Since we do not have a date to resume the Study and cannot schedule future appointments at this time, we have closed the call center temporarily.
Q3: What do I do if I have questions about my or my child's eligibility to participate in the study or have general questions about the study?
We invite you to read the eligibility section on our website to understand more about who can take part in the study. If you still have questions, please send us an email at PFAS@cdc.gov and we will respond as quickly as possible.
Additional Resources
ATSDR Information
Information from Other Agencies
Pease Study Process - Provide Information to Protect our Community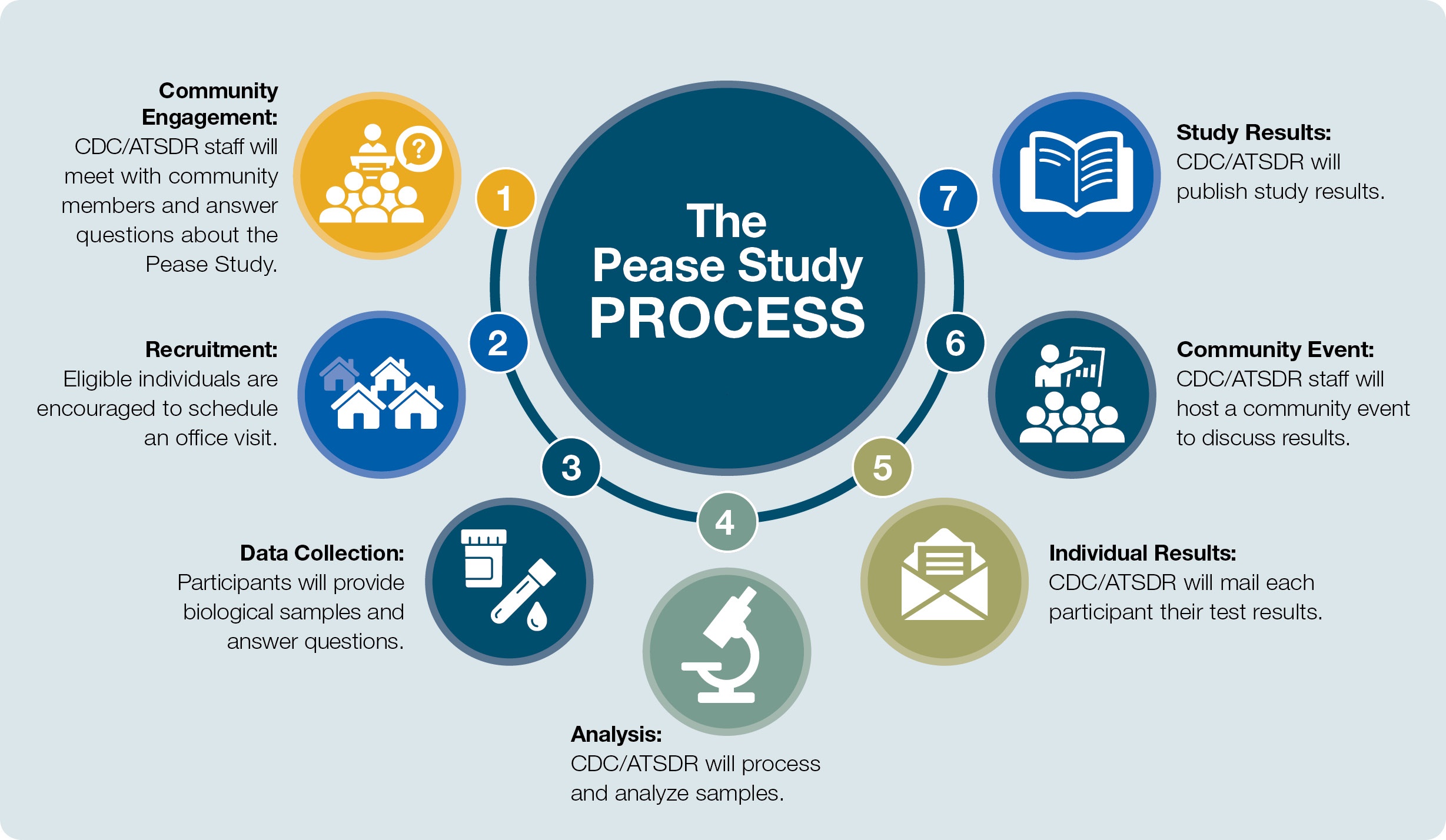 Page last reviewed:
April 3, 2020