Raising Awareness, Engaging, and Helping Communities
ATSDR works with communities across the country to protect public health and improve the understanding of potential health effects related to hazardous substance exposure. In 2020, to protect the health of communities and staff during the pandemic, ATSDR paused most of our fieldwork, adjusted site-related activities, and developed new ways to collaborate remotely. In addition, many ATSDR staff were called on to support the COVID-19 response. Learn here how our professionals rose to the challenges posed by the pandemic to complete many vital projects, assessments, and trainings.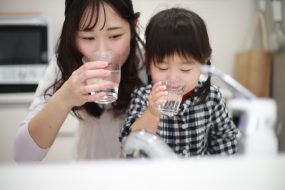 ATSDR adopts new community engagement strategies and sample collection procedures to complete PFAS exposure assessments in 2020.
Despite having to temporarily halt data collection and fieldwork, ATSDR completed the collection of biological samples (blood and urine) for all PFAS exposure assessment sites in 2020. We started work in 2019 after selecting these communities near current or former military bases known to have had PFAS in their drinking water.
What are PFAS?
PFAS are manufactured chemicals that have been used since the 1950s. Some products, such as food packaging materials, water- and stain-repellent fabrics and carpets, firefighting foam, and some cosmetics, may still contain PFAS. PFAS are a public health concern because they can stay in people's bodies for a long time and have been linked to harmful health effects in humans. Learn more about possible health effects of PFAS exposure.
Adaptation was crucial for completing the PFAS exposure assessments in 2020. In-person community meetings became online information sessions. In-person interviews became telephone questionnaires. When in-person events were possible, we followed the CDC COVID-19 safety guidelines — including physical distancing and temperature and symptom checks — to hold small-group, outdoor discussions where community members could schedule a time to meet with the PFAS exposure assessment team. As the pandemic progressed, we followed CDC guidelines for safely collecting and analyzing individual blood and urine samples. Individual lab results were mailed to participants in six of the participating communities in 2020 and to participants in the final two communities during the first half of 2021. Read more here about ATSDR's community-level exposure assessment findings. We also provided local healthcare providers with information on the exposure assessment and PFAS clinician guidance. pdf icon
ATSDR's work on PFAS does not only include exposure assessments. ATSDR and local health partners are investigating PFAS issues in communities near more than 30 sites in the United States. Learn more here. Findings from this work are already protecting people from harmful exposures and shaping future studies that will evaluate the effect of PFAS exposure on human health.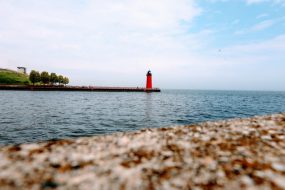 Phase III of ATSDR's BGLP-III Populations program works with anglers at increased risk of consuming contaminated fish in the Milwaukee area.
ATSDR concluded the third phase of its BGL-III Populations program in 2020. Known locally as the Milwaukee Angler Study, BGLP-III sought to evaluate the body burden levels of legacy and emerging contaminants in two previously unreached populations: licensed anglers and Burmese refugees. Previous research showed that these local groups had insufficient knowledge of advisories warning them not to eat contaminated fish.
Through a cooperative agreement with ATSDR, the Wisconsin Department of Health Services (WIDHS) recruited 398 licensed anglers and 107 Burmese refugees for the study. Participants submitted blood and urine samples and completed a questionnaire that focused on locally caught fish consumption. The biological samples were analyzed for 5 metals, 26 polychlorinated biphenyls, 10 brominated flame retardants, 9 PFAS, and 8 urinary polyaromatic hydrocarbons.
The program conducted extensive outreach on safe fish-eating practices to both populations at increased risk and anglers at large. WIDHS distributed materials regarding safe fish-eating practices and local advisories at fishing expositions and worked with partners to produce local fishing and consumption advisories and an educational video for Burmese participants. Materials were also translated into Burmese and Karen, two common languages among Burmese refugees. WIDHS also held an educational seminar at the Milwaukee Consortium for Hmong Health. Because COVID-19 prevented an in-person community gathering, WIDHS conducted an online meeting for licensed anglers in June 2020. For more details, see ATSDR's article on BGLP-III in the Journal of Environmental Health.
The Great Lakes: Home to 1/10th of the U.S. Population
The Great Lakes and their connecting waters, the world's most extensive surface freshwater system, are home to approximately one-tenth of the U.S. population. The area's ecosystem has long been contaminated by industrial, agricultural, and other human activities, leading to possible health risks for local populations that may eat more local fish, aquatic plants, and wildlife than others in the area. Learn more about the importance of biomonitoring in the Great Lakes.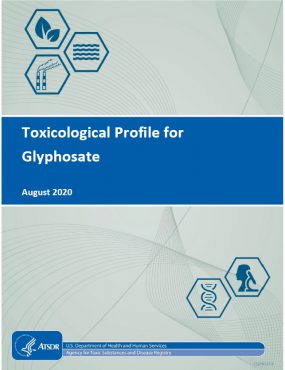 Communities show a strong interest in ATSDR's 2020 Tox Profiles on substances such as glyphosate, ethylene oxide, and lead. Public comments are important to ATSDR.
ATSDR's Tox Profiles are peer-reviewed reference guides on hazardous substances developed using cutting-edge research. Each profile offers information on a substance's physical and chemical properties, sources and routes of exposure, minimal risk levels, children's health and general health effects, and environmental interaction. Tox Profiles empower people in the community to identify and address potential concerns about harmful substances in their environment.
In 2020, ATSDR released 17 Tox Profiles on substances potentially harmful to human health, including glyphosate (an active ingredient in some weed killers) and lead (a long-term public health concern because of its wide distribution and inclusion in paint, gas, and other everyday substances), and a public comment version on ethylene oxide (a carcinogen used to sterilize medical equipment). Our agency received more than 370 comments and considered this feedback when revising and finalizing these profiles.
What are Minimal Risk Levels (MRLs)?
An essential part of Tox Profile development involves interagency collaboration on MRLs. An MRL is an estimate of how much a person can eat, drink, or breathe a chemical each day, over a specific duration of exposure, without appreciable risk of harmful noncancer health effects. Proposed MRLs undergo a rigorous review process. This begins with ATSDR's internal Health Effects/MRL Workgroup and extends to an interagency MRL Workgroup, followed by an official subject matter expert peer review. ATSDR maintains 184 Tox Profiles containing scientific data and public health information and, to date, has developed 459 MRLs.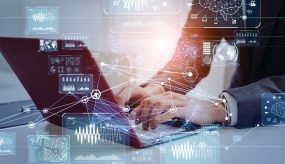 ATSDR develops new approaches using computer simulation models to better understand how the human body processes and eliminates chemicals related to environmental exposures.
ATSDR uses simulation science to design computer models to evaluate and reduce exposures to toxic chemicals. This work provides ATSDR's scientists with information about exposures and estimates of toxicity to protect communities. In 2020, ATSDR's simulation science work contributed the following to improve toxicological knowledge:
Integrated genetics and exposure science to enhance our understanding of how human organ systems work to detoxify various components of gasoline
Used existing and newly developed computer models to study human elimination of persistent chemicals such as PFAS
Advanced the ability to predict harmful levels of chemicals released in industrial accidents
These scientific achievements utilize both commercially available software and programming developed by ATSDR scientists to make toxicity estimates
Faster, of particular importance for emergencies
Possible, when very limited information is available, as is often the case for "new chemicals"
More cost efficient, by reducing the need for laboratory testing materials and animal testing, leaving only the cost of computer time and person hours
These scientific achievements have enhanced the agency's ability to respond to requests from various local and state public health agencies and have contributed to the federal government's efforts to respond to the environmental health needs of communities across the United States.
ATSDR educational opportunities transitioned online with new public health assessment trainings and virtual field projects for college interns in Navajo Nation.
Although in-person trainings and internships were not possible this year, ATSDR education continued through innovative online remote learning. We developed two new web-based accredited trainings on the fundamentals of ATSDR's public health assessment (PHA) process and environmental health and land reuse.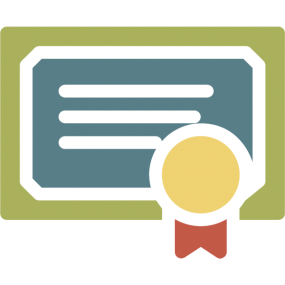 The Public Health Assessment Training empowers participants to evaluate community exposures to hazardous substances in the environment, following the PHA process. Based on a realistic environmental health case study, these eight modules include problem-solving exercises and comprehensive resources and references for conducting PHAs. Participants can take all eight modules or choose individual modules to suit their needs. To date, more than 500 learners have completed this online training.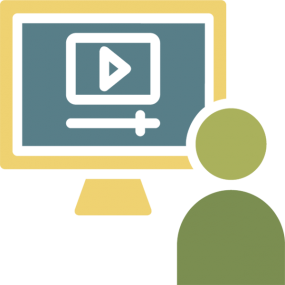 ATSDR created the Environmental Health and Land Reuse (EHLR) Classroom Training to supplement the online EHLR certificate program hosted by the National Environmental Health Association (NEHA). ATSDR hosts the downloadable EHLR classroom training, and NEHA hosts the EHLR online training. The ten hours of training modules are designed to increase the skills of environmental health professionals and partners. More than 800 people have already taken the training, and both EHLR online and classroom versions have the potential to instruct thousands of scientists, engineers, public health planners, cooperative agreement partners, students in environmental and public health disciplines, and tribal environmental staff.
Integrating Native and Western Science: A Virtual Field Project
In Spring 2020, Diné College, a public tribal land-grant college serving Arizona's Navajo Nation, grew concerned that its summer internship program would have to be canceled due to COVID-19. The faculty asked ATSDR for help, and our Land Reuse Health Program stepped in to create a virtual field project focused on integrating Native and Western Science. ATSDR staff collaborated with NEHA to develop and teach a six-week environmental health and land reuse curriculum. After completing the curriculum and fieldwork, all eight students received environmental health and land reuse certificates.