Lubbock County (TX) near Reese Technology Center
PFAS Exposure Assessment Community Level Results
In 2019, the Centers for Disease Control and Prevention (CDC) and the Agency for Toxic Substances and Disease Registry (ATSDR) started exposure assessments (EAs) in communities near current or former military bases known to have had per- and polyfluoroalkyl substances (PFAS) in their drinking water. Individuals who participated in the EAs provided blood and urine samples to CDC/ATSDR for analysis. We sent letters to participants that included their individual lab results. An example letter of the test results letter and the community level results are available here.
Background
Reese Air Force Base (AFB) used aqueous film forming foam (AFFF) at the former Reese AFB, which led to PFAS within the foam seeping into the groundwater. The Air Force discontinued use of AFFF following base closure in 1997. The base has since been converted into a business and research park, the Reese Technology Center.
The Air Force first measured PFAS in drinking water from private wells in the area in September 2017 and began sampling wells downgradient from the former base in November 2017. The Air Force installed whole-house treatment systems in affected homes and supplied bottled water. Based on information available to ATSDR, all households tested by the Air Force now have a drinking water supply that meets federal and state PFAS guidelines.
Sampling Area
CDC/ATSDR identified an area where many private wells had PFAS levels above state or federal guidelines. All households served by private wells in this area were invited to participate, even if their previous well testing results were below the federal guidelines and even if they have never tested their private wells. The exposure assessment only considered households served by private wells.  Residences served by the Lubbock Water Department were not included because they have a different source of drinking water.
Individuals in selected households were eligible to participate if they:
Were 3 years of age or older (Children were included in the exposure assessment only if they had consent from a parent or legal guardian)
Did not have a bleeding disorder and were not anemic
Lived in the sampling area for at least one year before September 30, 2019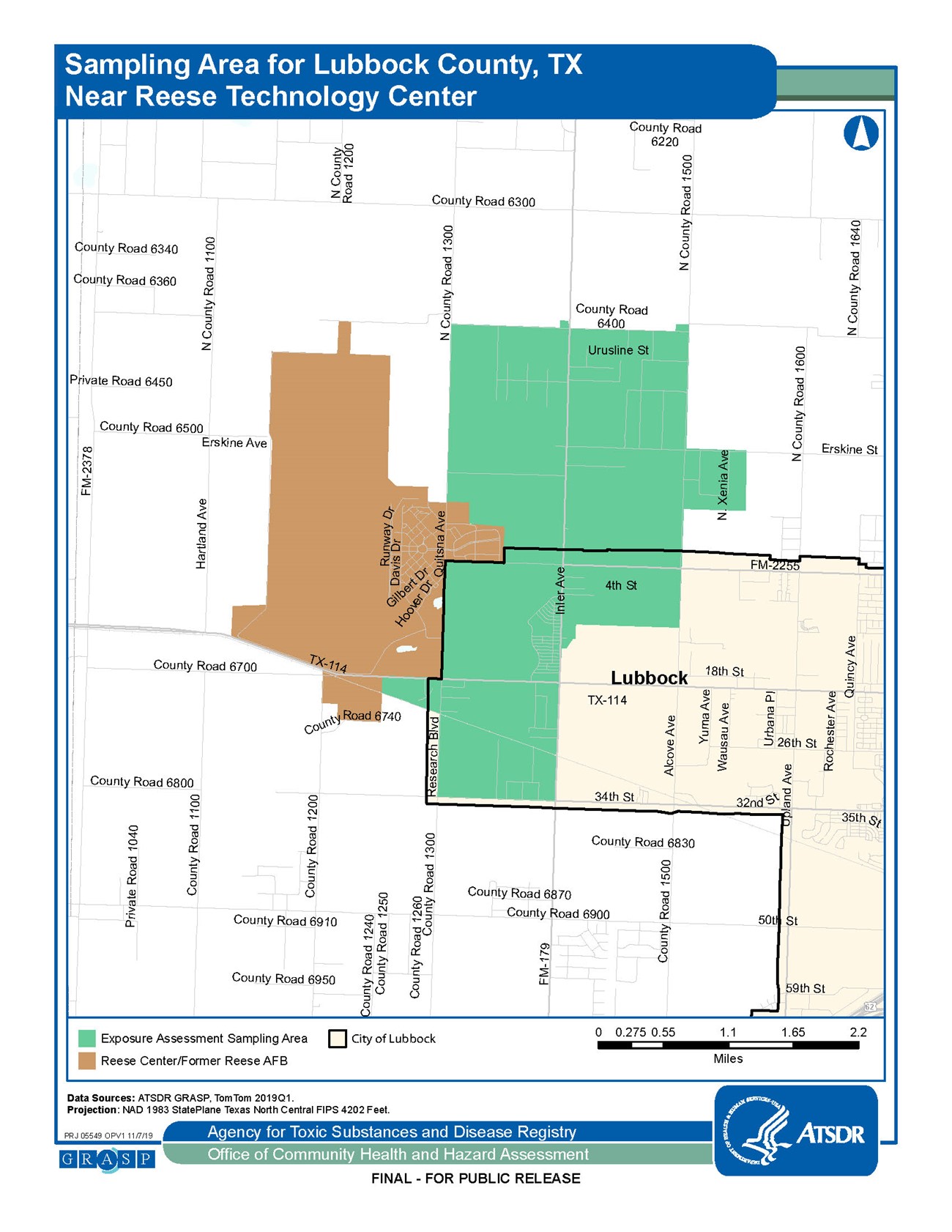 Schedule
CDC/ATSDR began an exposure assessment in January 2020. Recruitment lasted about five weeks. After that, CDC/ATSDR was in Lubbock for approximately two weeks for sampling.
CDC/ATSDR completed the analysis of environmental and biological samples. Individual results were mailed to participants November 4, 2020. If you participated in the exposure assessment and have not received your individual test results, please contact ATSDR at PFAS@cdc.gov. CDC/ATSDR will write a final report summarizing the findings and recommendations for the community and present the results at a public meeting.
Information Session
For information on work being done in Lubbock County, TX, contact CAPT Patrick Young, Regional Representative, 214-665-8562, pay9@cdc.gov.
Page last reviewed:
December 7, 2020