Pease Study
CDC's and ATSDR's mission to protect public health requires that we pause the Pease Study to respond to the serious public health threat from the COVID-19 virus.
To protect the health of residents of Portsmouth, NH and surrounding communities and stop further spread of COVID-19, we are following CDC social distancing recommendations. Therefore, we will reschedule current appointments in the future and close the Pease Study office. We will continue to work on PFAS activities to address this important public health concern, including preparing for the time when we re-open the study.
We encourage everyone to do their part by limiting social gatherings and keeping a safe physical distance from others—staying at least six feet apart.
Please check our website periodically for PFAS updates.
If you would like to learn more about the virus, please click COVID-19.
The Pease Study is the first site of the national, Multi-site Study, which will look at the human health effects of PFAS exposure through drinking contaminated water. CDC and ATSDR will use the Pease Study to evaluate and improve procedures and methods for the Multi-site Study design.
The Pease Study is now enrolling participants who meet specific eligibility requirements. This study will expand our scientific understanding of PFAS by looking at the association between health outcomes and PFAS exposure from drinking water.
If you would like to enroll in the study or if you are unsure about whether you qualify for the study, please call the Pease Study call center at 603-846-6192. The call center will screen you for eligibility and provide information on the next steps.
Contact Us
Phone the Pease Study call center at 603-846-6192 to be screened for eligibility.
For general information about PFAS or the Pease Study call, 800-CDC-INFO.
For general questions about the Pease Study, email PeaseStudy@cdc.gov.
FAQs about the Pease Study pause during CDC's and ATSDR's response to COVID-19
Q1: Why was the Pease Study paused?
Much of the work with the Pease Study requires close contact with community participants, such as interviews, drawing blood, and child behavioral tests. Because the spread of COVID-19 virus is affecting all 50 states and US territories, CDC and ATSDR suspended the Pease Study out of abundance of precaution to protect public health.
Q2: When will the Pease Study restart?
Right now, CDC and ATSDR does not have a restart date for the Pease Study. However, we urge all Americans to do their part to help slow and stop the spread of COVID-19. The Pease Study outreach activities, including posting information on our website, social media outreach, and local media outlets, will begin once the study can safely be restarted.
Q3: What safety measures will the Pease Study staff use to protect staff and participants from COVID-19?
CDC and ATSDR are using best practices and taking measures based on scientific evidence to protect against the spread of COVID-19. These measures involve staff and participant screenings, including temperature checks and asking about symptoms typical of COVID-19 before they enter the Pease Study office. Staff and participants will be provided hand sanitation along with requiring personal protective equipment gear for staff and face masks for participants.
Q4: If I or my child have already scheduled an appointment for the Pease Study, what should I know?
If you are scheduled, you will be contacted about your appointment cancellation. We regret any inconvenience the cancellation may have caused, but your safety and health are most important. As soon as it is safe to conduct study activities without risking the spread of COVID-19, you will be contacted to reschedule your appointment.
Q5: Is the Pease Study call center or office in Portsmouth open?
The call center and office are temporarily closed due to the COVID-19 threat. A date has not been set to resume the Study. Therefore, we are unable to schedule future appointments at this time.
Q6: What do I do if I have questions about my or my child's eligibility to participate in the study or have general questions about the study?
We invite you to read the eligibility section on our website to understand more about who can participate in the study. If you have questions, you may also contact the Pease Study Office at (603) 292-3571. If you are unable to reach our staff, please leave a message and a staff member will get back to you as soon as possible.
Also, if you have questions about Per- and polyfluoroalkyl substances (PFAS), please send an email to PFAS@cdc.gov.
Background
Approximately 8,000 people work at or frequent the Pease International Tradeport. There are also two daycare centers located on the site. In May 2014, drinking water wells that supply the Pease International Tradeport were sampled. The Haven Well, one of three wells that serves the Pease International Tradeport and the New Hampshire Air National Guard base at Pease, showed elevated levels of the unregulated contaminant perfluorooctane sulfonic acid (PFOS). How long PFOS may have been present in this well is not clear.
Because the level of PFOS exceeded the "provisional health advisory" set by the U.S. Environmental Protection Agency (EPA), the well was shut down by the City of Portsmouth on May 12, 2014, and since that time it has been physically disconnected from the system. The New Hampshire Department of Health and Human Services asked the Agency for Toxic Substances and Disease Registry (ATSDR) to help evaluate possible follow-up actions.
Pease Feasibility Assessmentpdf icon [PDF -1MB]
Child Participation in the Pease Study: Question & Answer Sessions
On Tuesday, February 4, 2020 from 6:00 p.m. to 7:30 p.m., ATSDR held a community meeting at the New Hampshire Department of Environmental Services at the Pease Tradeport about child participation in the Pease Study. Child Life Specialist Jessica Laperle, CCLS, an expert in helping children with emotional needs in medical settings, gave a presentation and answered questions.
You can view the meeting, including the questions and answers segment, by following these links:
On Wednesday, February 5, 2020 from 12:00 p.m. to 3:00 p.m., the Child Life Specialist was available for drop in discussions at the Pease Study Office.
See the Child Participation Questions & Answers Sessions Flyer
Get tips for preparing for your Pease Study Appointment, including the process for children and what to bring for each child.
For specific information on enrollment criteria, please view the Pease Study Community Fact Sheet, or phone the Pease Study call center at 603-846-6192
Pease Study Community Meeting
The Pease Study Community Meeting was held on October 24, 2019 in Portsmouth, NH. You can view the meeting, including the question and answer segment, by following the link provided here (https://m.youtube.com/watch?v=UKV-aK_W19w).
For specific information on enrollment criteria, please view the Pease Study Community Fact Sheet, or phone the Pease Study call center at 603-846-6192.
Additional Resources:
Pease Community Assistance Panel (CAP)
Interested in learning more about ATSDR activities at the Pease International Tradeport Site? Join us for the next CAP meeting.  Click here for more information about the Pease CAP.
The next Pease CAP Meeting will be held virtually on September 21, 2020.
Please click here for Zoom call in information.
ATSDR Information
Fact Sheet
Health Consultations/Assessments
Media Announcements
Resources for Health Care Providers
Recordings of Pease Study Meetings:

Child Participation Meeting – February 4, 2020
Information from Other Agencies
Environmental Protection Agency
National Institute of Environmental Health Sciences
New Hampshire Department of Health and Human Services

City of Portsmouth Department of Public Works
Pease Study Process – Provide Information to Protect our Community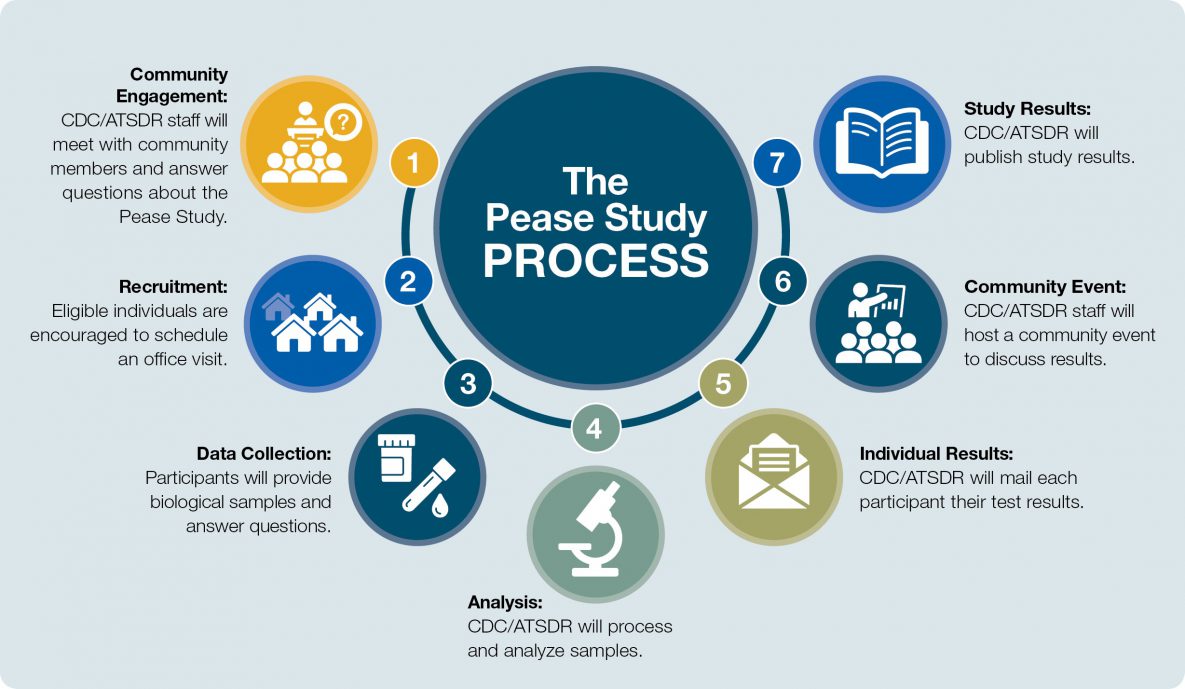 Page last reviewed:
August 5, 2020